---
First of all, how well should you putt?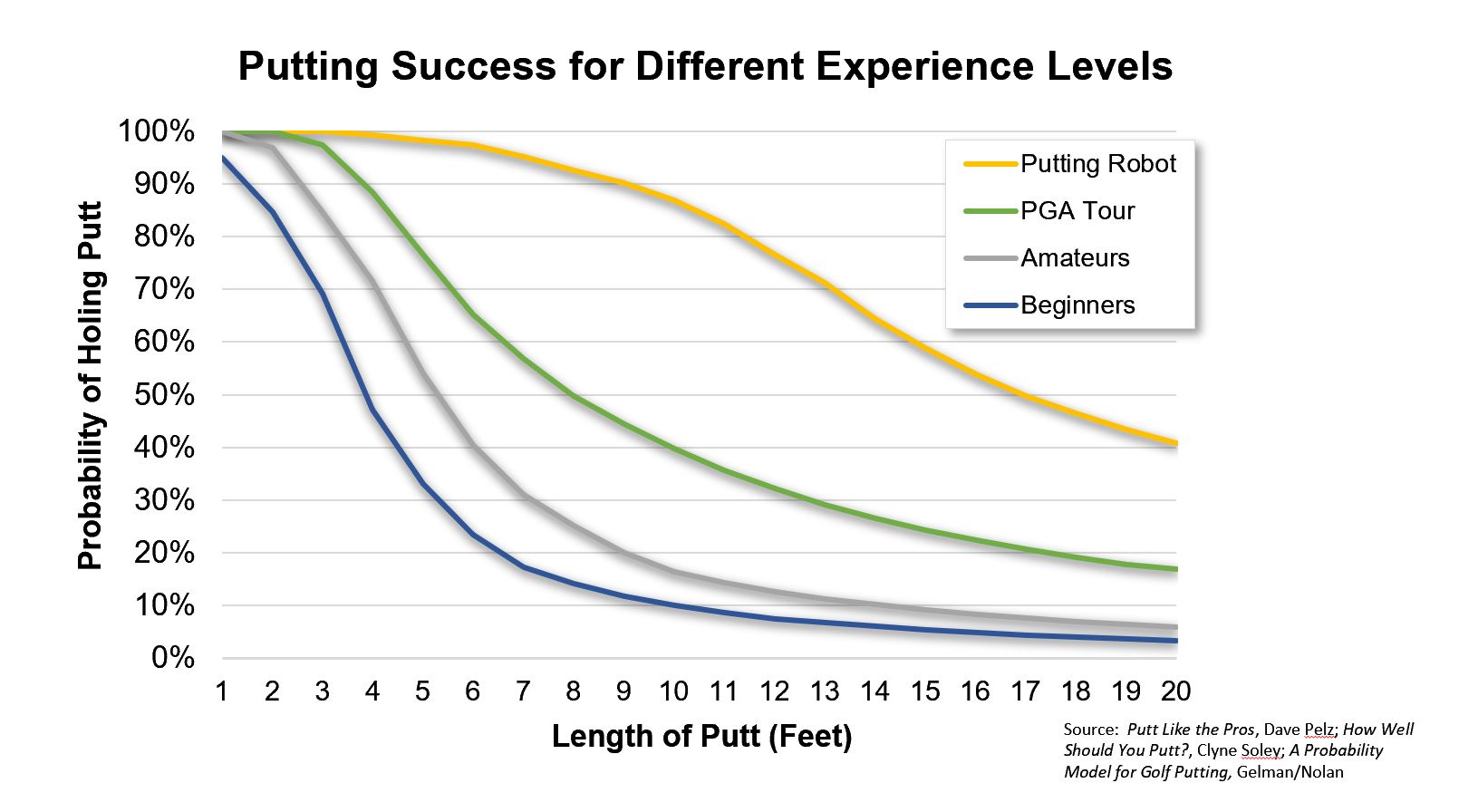 The graph above shows probabilities of holing putts at different distances across a variety of experience levels. The first thing to notice is how well a putting robot can putt! Putting robots significantly outperform even highly skilled humans.
A putting robot will make nearly 85% of its putts from a distance of 10 feet! While even the best pros will only make 40%! Amateur performance drops off another 20-25% to 15% and beginners luck gets 1 of 10 in the hole.
The Three Imperatives of Good Putting
We agree with noted putting instructor Geoff Mangum when he emphasizes the following imperatives for great putting:
The putterhead must begin aimed directly at the target line
The putterhead must be returned square back to the original aim line
The timing and rhythm of the stroke must stay within tight boundaries
Why follow these maxims? Most players miss putts due to the following reasons:
Mistakes in aim
Aim biases that require correction
Inability to consistently return the putterhead square to the target line
Speed errors associated with bad timing and grip forces
In order to develop good putting skills, its best to eliminate the need to rely on unusual athletic talent to make putts!
What is "Neutral" Putting Technique?
It's a reference set of fundamentals for training successful movement. It's common movement that is empirically observed in the best putters in the world. It's technique that makes intuitive sense, is easy to perform, is easy to repeat, and performs well under pressure. It simply produces the best results.
---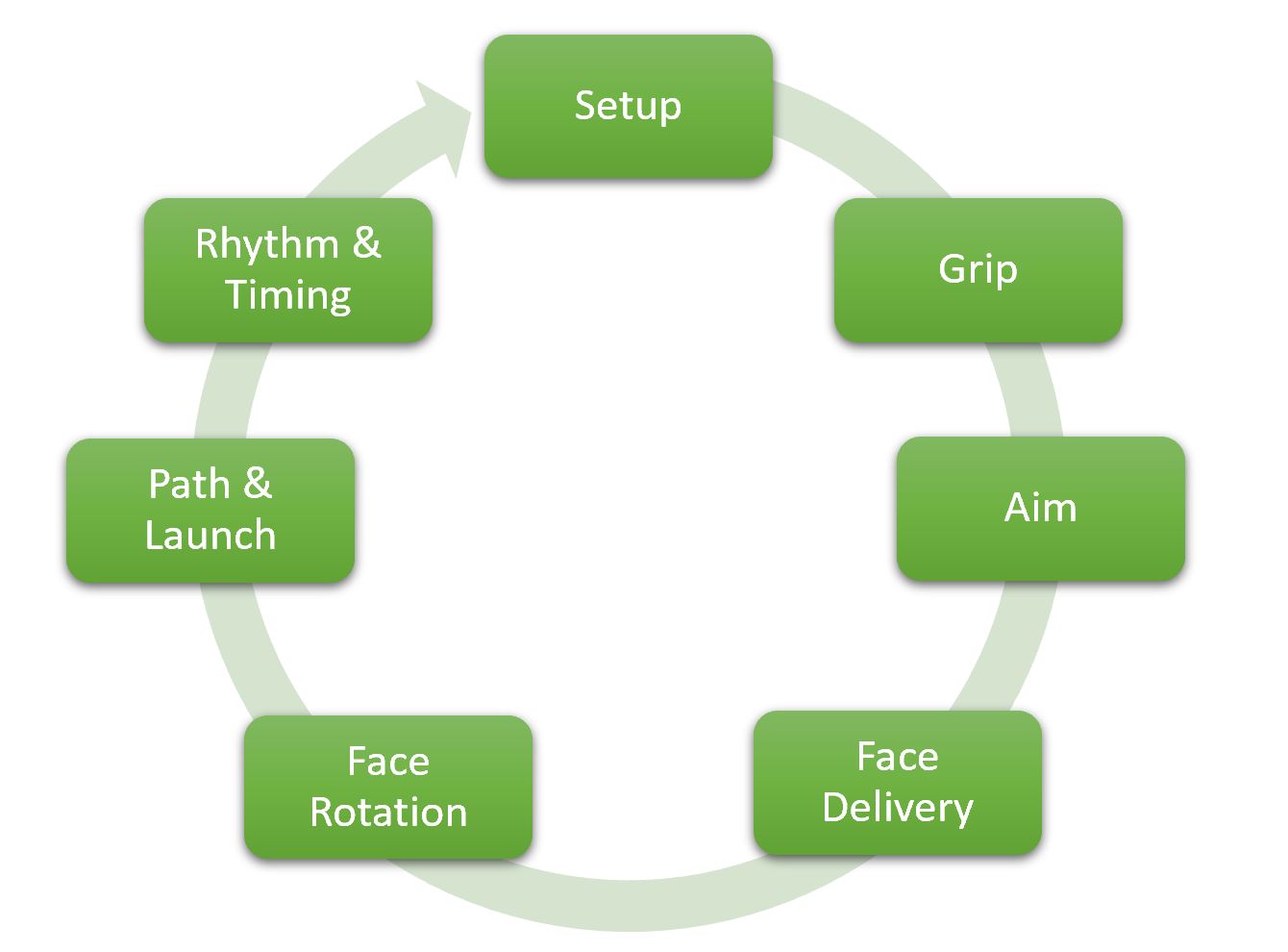 ---
Why Adopt "Neutral" Putting Technique?
It's a reference for proven successful movement:
Movement that has empirically produced the best results
Movement commonly observed across the best players
Technique that makes intuitive sense
Technique that is easy to perform
Technique that is easy to repeat
Technique that performs well under pressure
---

---
The table above shows an important concept I borrowed and have expanded upon from Dr. Christian Marquart of SAM Putt Lab. It's a road map for when and under what circumstances to intervene and change a student's stroke. When deciding to intervene, there are three critical considerations to undertake. First, how do the student's fundamentals stack up versus those of the best putters? Typically this will correlate well with experience but not always. Quite often, we see very accomplished players with less than desirable technique that putt outstandingly well. They have suboptimal technique but they can do it the same way every time! This raises the second important consideration – consistency.
In this case the better part of valor is to not intervene because what they do is highly consistent. Who's to say they will putt better with better technique that they cannot administer consistently?
This leads to the third and final consideration: performance expectations. Quite often teachers who coach tour players will respect the athleticism and consistency that got a player to the tour, also realizing that a change that makes them worse will be very expensive. Performance expectations are at their highest for tour players. This is why most tour instructors take a hands off approach to their client's approach to putting.
But it's a mistake to extend this type of thinking to all golfers. Beginning golfers typically make material strides from adopting good putting fundamentals across the seven categories of fundamentals shown in the wheeled schematic in the middle of this post. Why? Because they have yet to develop a set of well-functioning fundamentals. Moreover, they are not yet consistent, and they have yet to develop even modest performance expectations.
In this case, which is the majority of students I teach (I do not teach tour players), I wield a very heavy hand in changing their putting strokes. Even better amateurs with low single-digit handicaps often have nuanced technique shortfalls that once corrected leads to significant improvements to their putting. Most of the time, the better amateurs are making
mistakes with either their grip, aim, or acceleration profiles.
Are you someone whose technique is still developing? Who wants to learn the finer details of "neutral" technique? And who feel their non-neutral technique interferes with their consistency?
If so, please read as much as you can on the putting section of my website and then come sign up for for a "30 Days to 30 Putts" training session.